If you ever visited a GPT site, I am pretty sure you must have seen Figure Eight tasks (Formerly Crowdflower).
In fact, these tasks are the best way to increase your earning potential on Reward sites.
But, did you ever have an opportunity to complete them?
If you are like most people, you might have tried and seen an empty screen or fewer tasks.
As a new Figure Eight member, you might wonder why you have such a limited number of tasks in front of you.

And here is the answer to that question;
Figure Eight follows a different method to decide your tasking ability which is completely different from other Micro job Sites. When you are new, they have no clue how good you are at tasking.
So you need to understand and follow their guidelines to receive more tasks.
And in this article, we included all the steps you have to follow to earn better from Figure Eight.
What is Figure Eight (Crowdflower)
Fundamentally, Figure Eight is a site that gives micro jobs to taskers all around the world.
When it comes to the micro job sites, you already know that each task comes from a different category and every task has a different set of instructions.
Likewise, Figure Eight also offers anything from Data cleaning, Data entry, internet research, categorization to surveys.
Unlike other micro job sites, Figure Eight is not directly accepting members. Therefore, as a tasker, you need to choose a reward site as a medium between you and Figure Eight.
While choosing a reward site, you need to cleverly pick one, as the reward site is what going to decide your pay per task.
As an example, here are the same tasks with different pay at two different reward sites Clixsense and Swagbucks.
Clixsense,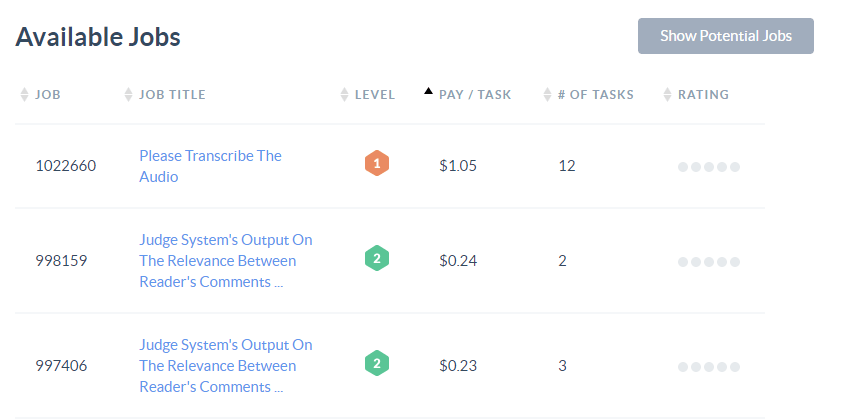 Swagbucks,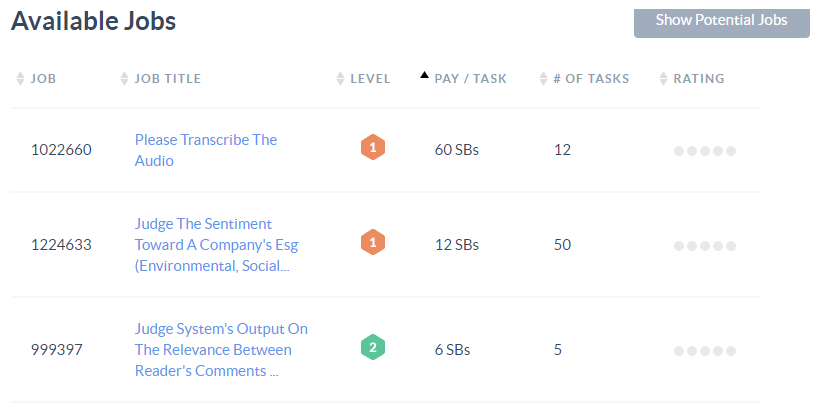 The reward site that I recommend is Clixsense.
I suggest clixsense because of the following reasons,
1. It offers high payout per task compared to others.
2. You earn sixteen percent bonus along with $5 for every $50 you make.
3. If you get into the top taskers list, you have an opportunity to earn a bonus up to $50.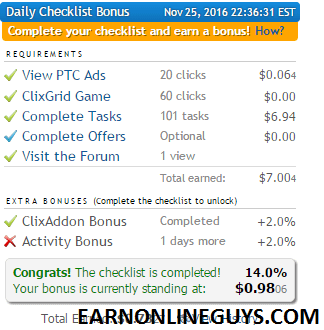 Since we choose our reward site, as a next step, we need to connect it with your Figure Eight account.
Linking Figure Eight with Clixsense
First of all, Go to Figure Eight
If you don't have an account, Click on the sign-up button and fill out the information to complete the sign-up procedure.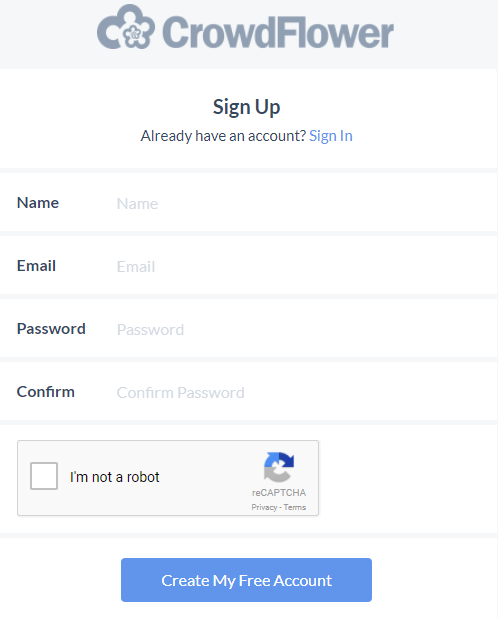 Now you need to link your Figure Eight account to Clixsense.
To do that, head over to Clixsense, Sign up and create an account, if you don't have one.
On your menu, there is a link to Figure Eight tasks, Just go ahead and visit that page.
On the tasks page, you may see few tasks. If there are any click on one of them and it will lead you to Figure Eight.
If there are no tasks, Click on the "Potential Tasks" button where you can see a lot of tasks. Just Click on any of them to go to Figure Eight.
You will see a notification that contains terms and services. Accept that,
That's it. we just successfully linked them.
You can verify that connection by visiting "Edit Profile" link.
From that page, you can realize whether it is connected or not.
Achieving level batches
Earlier in this article, I mentioned that Figure Eight follows a different method to decide the number of tasks you receive.
Figure Eight uses a batch system to provide tasks to its members.
Batches are awarded to members based on their accuracy on tasking.
Here are the accuracy levels required for every to gain badges,
First badge – 70%
Second badge – 80%
Third badge – Above 85%
Below is a screenshot of my Figure Eight dashboard.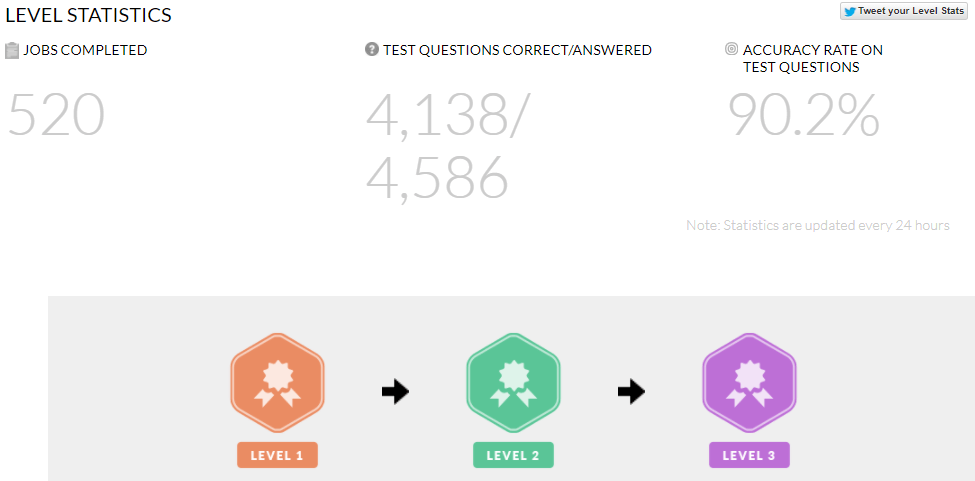 In the image, you can see that I have answered 4586 test questions with an accuracy of 90 percent.
And for a new member, this what a Figure Eight dashboard looks like.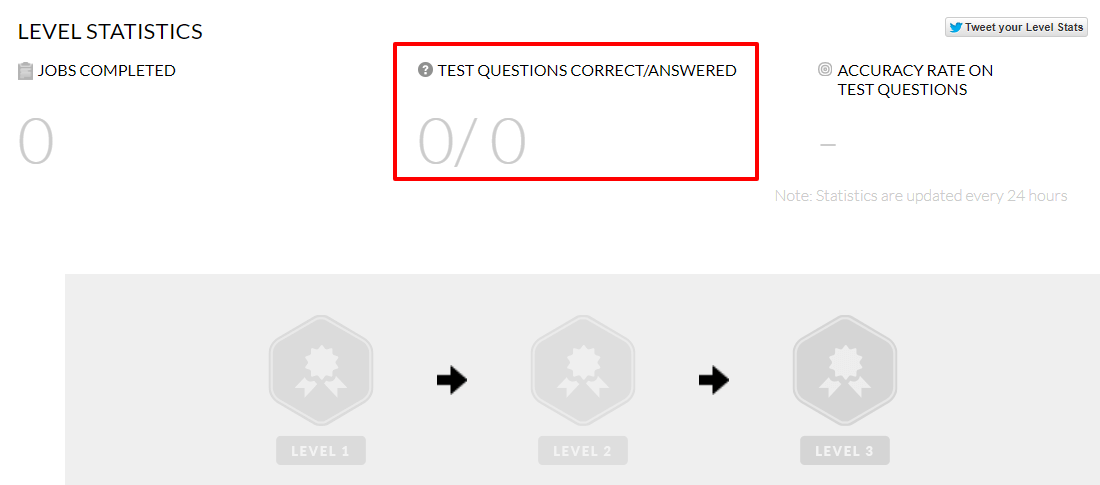 To earn your level batches you need to answer at least 100 test question with higher accuracy, And that is what going to be the first goal in front of you.
What are the test questions?
At Figure Eight, the very first task you receive is a qualifier task.
Where you have to answer the qualifier tasks with a fixed number of correct answers.
For example, In this task, you are asked to complete tasks with at least 4 right answers for 5 test questions.

Since you know that you have to answer 100 test question, you also need to understand how they are calculated.
For the first qualifier task, all the test questions you answer will be counted.
After that, In paid tasks, every task you complete will add you one test question.
Let me show that to you with a real example,
I completed 51 tasks with every task containing 10 questions.

For the first qualifier tasks, they took all 10 questions into account, and then each for every paid task completed,
which resulted in 60 test questions in total.
And this is how your first 100 test questions get calculated.
But For new taskers, the number of tasks is limited, you only be allowed to complete 0 levels tasks.
The one bitter thing about 0 level tasks is that they are not consistently available. You will receive tasks once in a while. So you need to be there when tasks are there.
Installing Clixaddon extension will give you notification about all the available tasks. You can download it from clixsense by visiting the addons page.
How to complete tasks with higher accuracy
Completing tasks with higher accuracy is the crucial part of tasking.
First of all, you have to understand one important thing about Figure Eight.
Not all the tasks at Figure Eight are easier to complete. So you need to wisely pick your tasks. At your tasks page, you can align tasks based satisfaction Rate, pay rate and number of tasks available.
Always align tasks page based on satisfaction Rate, Since they are easier to complete.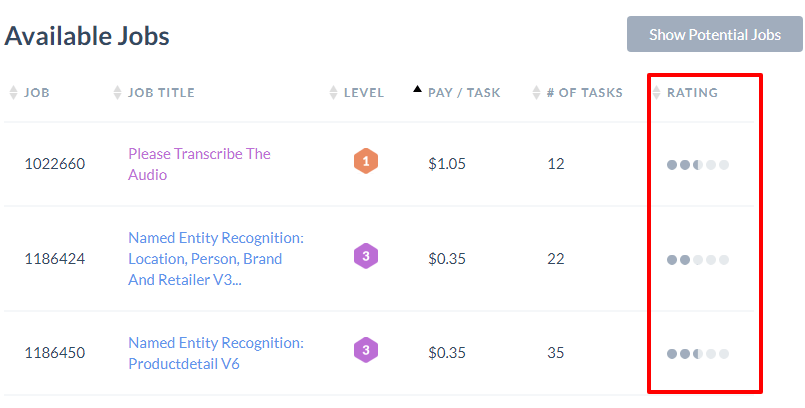 But at the same time, at a regular interval, change that to pay rate as short living and high paying tasks keep appearing and disappearing.
Once you pick your task, In the very beginning, you can see task instruction which contains all the information you need to complete a task.
While I was trying to gain my accuracy, I kept making one mistake that made me spend one month to reach my third level batch.

And the mistake;
Not reading the task instruction and particularly the example tasks carefully.
Usually, Crowflower gives more time for complete qualifier tasks, so that you can take enough time to read and understand the task.
Take your time read all those instruction, After instructions, they give you a few examples. Sometimes they ask the same questions as the examples so make sure that you read them too.

Then get into the task. Complete the task by following the exact instructions that you received.
If you make any mistake, you will get notified of it.
In some rare cases, Figure Eight gives some unfair answers even if you answer the questions correctly. In those situations, you need to contact their support team.
Take screenshots of the right answers. then at the top click on the help then choose "File a ticket". Now enter your request and add screenshots to solve unfair answer issues.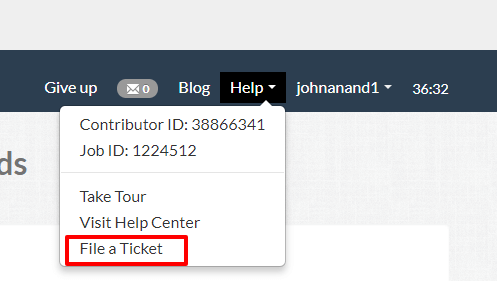 By following this you can prevent your account from hitting lower accuracy level.
Tasks Without Test Question
Along with usual tasks, you can also expect tasks without test questions.
Mostly task without test questions are easier to complete, you need to follow the instruction but it is not essential to complete the tasks precisely.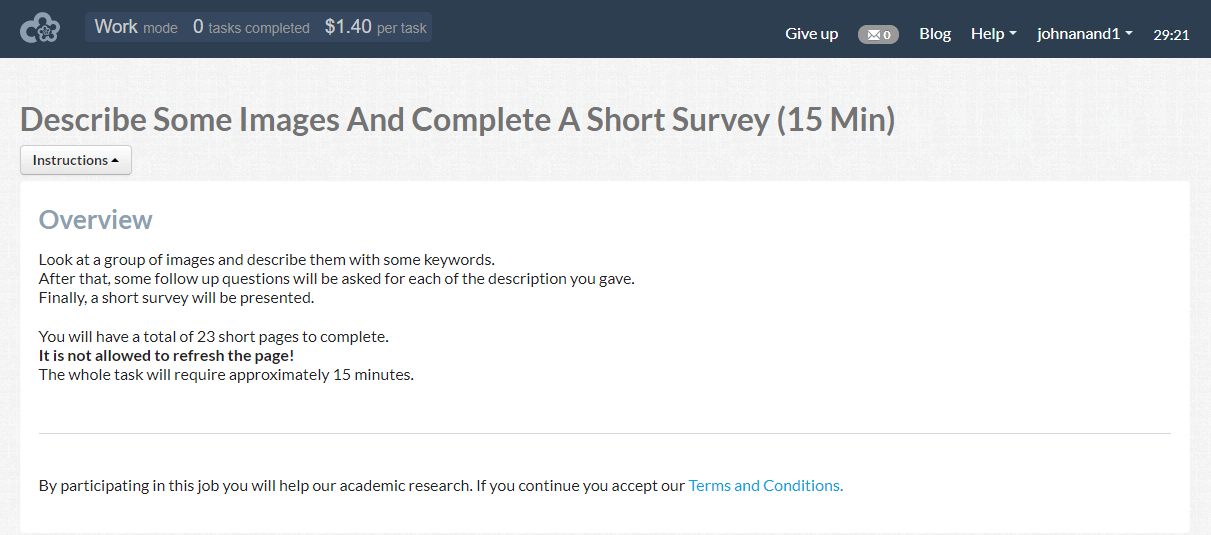 Sometimes these tasks may bring you bonuses if you put some attention towards them,
With this in mind, always try to complete these tasks as if you were completing a task with test questions.
Conclusion
After your account hitting the potential, It is possible for you to try all the available task. Always give some time to read the instruction, Even if you are doing the same task,
In other words, Always prioritize your accuracy over the other.
Along with accuracy, time management is another important part of Figure Eight.
And make a list of easier tasks you complete so that you can take them whenever available.
Overall, It is a good place to complete micro jobs for cash.
So far we have discussed all the aspects of Figure Eight, Other than this site, there are a few Micro jobs sites doing the same good job as this one so try to utilize them too.
If you have any doubt, just leave them in the comments.