Clixsense is the place where I made my first dollar.
It was three years back, I was getting started and looking for a simple way to make money.
if you are in a situation like me, Clixsense is a must go site.
I, Simply, recommend clixsense because of the following two reasons.
1. It is easy to get started. Plus you don't need any skill.
2. You can work from anywhere around the world. There are no country-related restrictions.
Throughout this article, we will be reviewing all the opportunities available and let you know how you can take advantage of them.
So let's get started.
Clixsense – Account Sign up and Set-up
To get started with Clixsense, go to Cixsense, Fill the simple sign up form.
While signing up, choose a unique username as they have millions of member all around the world.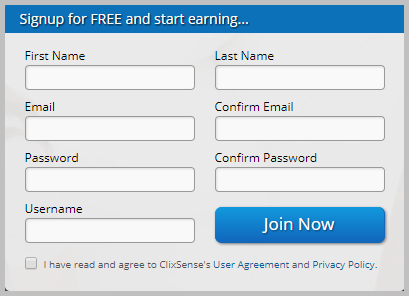 Once you fill your form, click on the sign-up button, Now you will receive a verification mail just like you receive from any other sign-up process.
Click on the verification link to get your account activated.
Now you have got your account activated.
Next, you need to fill in some basic information. In order to do that, mouse over avatar at your top right corner.
Click on the Profile and settings button. Fill all the basic information required.
Go to the payment page choose your preferred Payment gateway.
Right now Clixsense sends payments via Payza, Payoneer and Tango card.
If you are from the US or Canada, give your exact address since you need to verify your postal address to receive your first payout.
Now it is time to jump into the earning part.
Like I mentioned earlier, This site offers four ways to make money.
1. Surveys
2. Offers
3. CrowdFlower Tasks
4. Referring people.
And we are going to discuss them one by one.
Paid Surveys
After signing up for Clixsense, you receive plenty of surveys and may end up completing none of them. If something like that happened, don't be downhearted since it's completely normal.
And it happens because Clixsense sends you all the available surveys instead of surveys that are relevant to you as they don't know about you.
First Of all, You need to start receiving surveys that are relevant to you so that you can complete them without being kicked out of the survey.
At your top right corner, there is a link to survey profile, Click on that to complete your survey profile.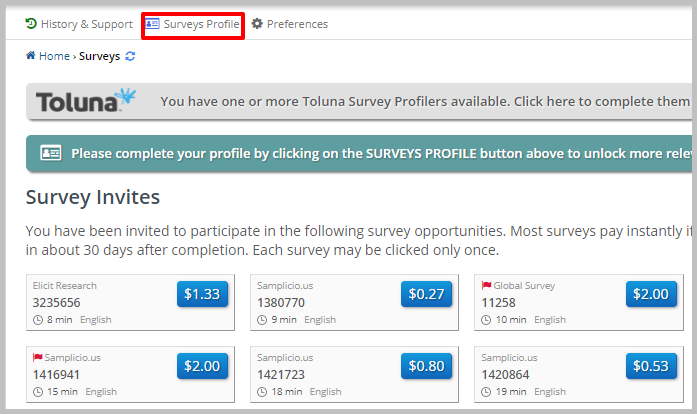 You also have to make sure that the details that you give on paid surveys and Survey profile are exactly the same.
Clixsense is in partnership with top research sites so you can expect a nice amount of surveys.
At the bottom of the page survey page, you can see a lot of survey panels names with rewards mentioned on them, Click on them to check if there any survey is happening at that moment to participate.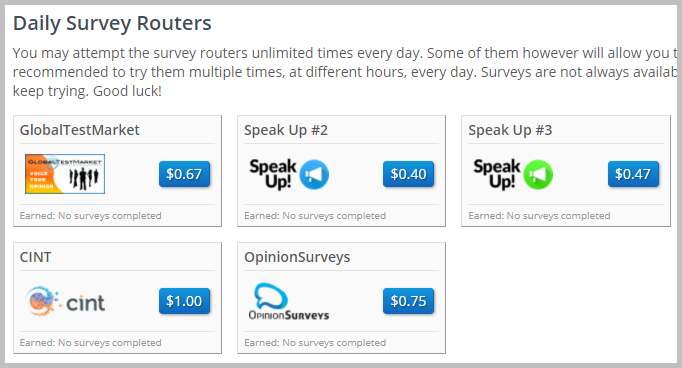 Whenever you successfully complete a survey, at the very end, you will receive a notification like this to indicate that you have successfully completed the survey.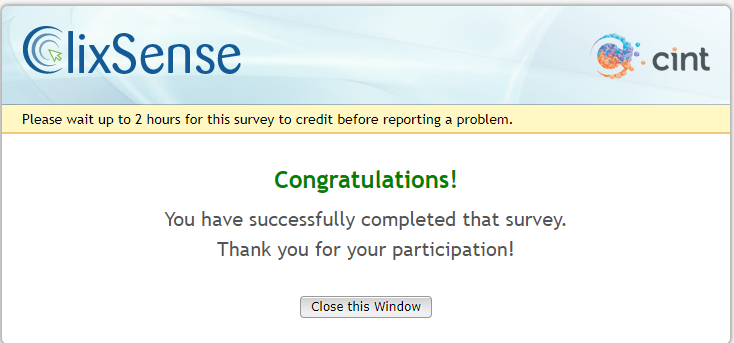 And within few seconds that promised amount will be credited, Unless you completed a survey with a red flag like this one.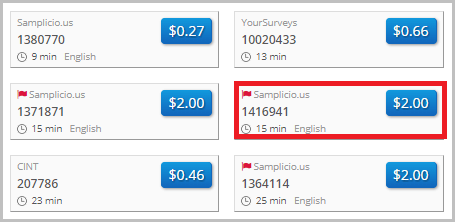 In this case, it would take about 30 days to get your account credited.
Most of the Clixsense surveys appear and disappear as quick as a flash, so whenever you receive surveys try to attempt and complete them as soon as possible And also try to complete them in one session.
Paid Offers
In offer section, you have plenty of offer walls that allow you to complete paid offers like downloading apps, playing games, completing surveys, signup for trials and few other.
Offer page has about 10 different offer walls. While trying to complete an offer find the offer wall that offers high pay as all the offer walls provide same tasks for different pay.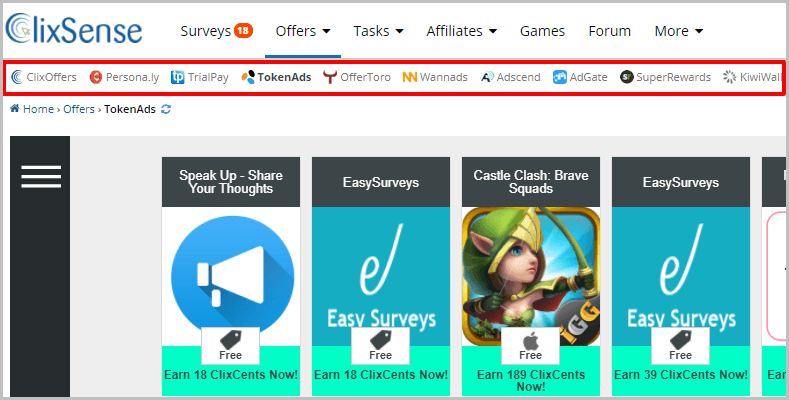 You need to be conscious of paid offers, Especially when signing up for trial offers. quitting earlier or later from offers may cause more money than what you are going to make.
Offer page gives tasks totally depends on your country,
Clixsense has a list of top-tier countries where they are getting many advertisers, because of that they are preferring members from those countries.
If you are not from a top-tier country don't worry though, you have crowd flower tasks. And that's what we are going to discuss in the next part.
CrowdFlower Tasks
To be honest, tasks are the best way to earn more on Clixsense. Tasks are actually from Crowdflower a micro-tasking site that gives small tasks. You can expect anywhere from 1 cent to few dollars per task.
Crowd flower is a separate site from Clixsense so you need to create a separate account.
And setting up a crowd flower account is a  little confusing one.
And here is exactly how to do that,
First, Go to tasks.crowdflower.com and complete the sign-up process.
You also need a facebook account to complete the sign-up process.
In the beginning, you may not see a lot of tasks or even face the absence of tasks, the reason for that is Crowd flower tasks work based on the accuracy of work.
Since you are new to crowd flower, they don't know how good you are at tasks. So they send you the 0 level tasks, To gain the number of tasks, you need to earn level batches.
And this is how a Zero level task looks like,
Once you start to receive the tasks, complete them with higher accuracy to gain more batches and tasks.
Honestly, achieving all the level batches is a time-consuming process. It may take a week or more so you need to be patient.
Once you achieved enough number level batches, Your account will have plenty of tasks available.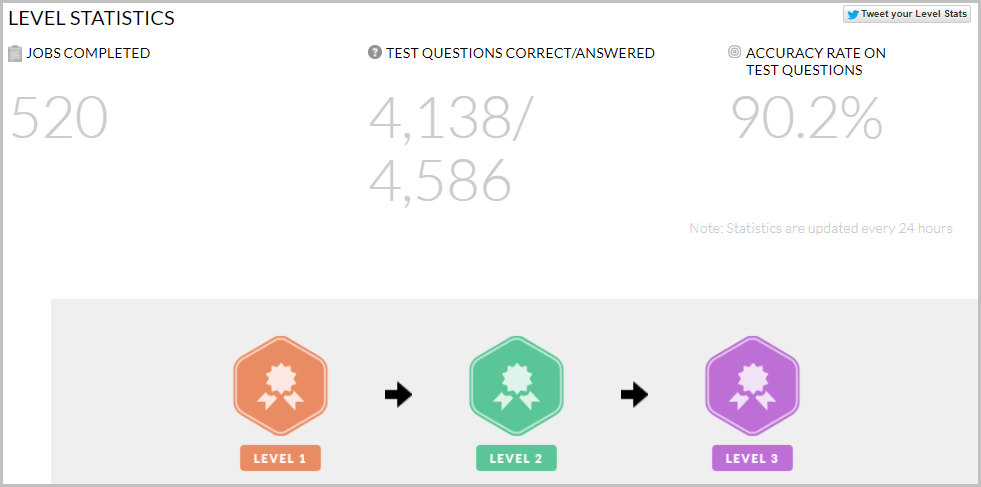 Almost all the GPT sites offer Crowd Flower tasks, But Clixsense remains as the favorite for these two things.
First, you will receive a daily bonus of 16%, other than that for every 50 dollars you make, you will receive a bonus of 5 dollars.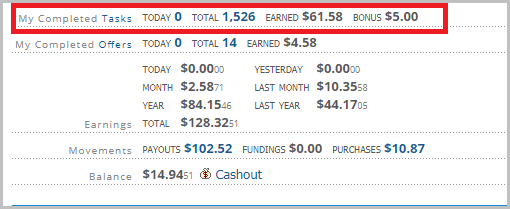 Second, They also compensate top ten taskers with a bonus up to $50.
You receive different types of jobs, like data entry, surveys, data cleaning, web research, and many other.
Listen:
Not all the tasks are easier to complete. Some tasks may need some special attention.
In the very beginning, you need to be conscious and focusing on achieving level batches instead of rushing to earn, When it comes to crowd flower accuracy is the key factor.
Affiliate Program
If you go through the internet you can find a lot of people that claiming thousands of dollars of income right from Clixsense itself only.
Is it even true?
Actually, that's true and they are promoting their affiliate links to make that much of money.
So, refer people as much you could since you have more benefits than any other GPT site.
And here are the benefits you are going to receive,
When the person you referred earns his or her first five dollars you receive a 2 dollars of bonus.
you also receive a 20 percent commission whenever they earn for the lifetime.

To earn more from affiliate marketing, Refer people who love work, who are actually looking for the opportunity.
You can find them on social media, Q and A sites, Forums and Youtube comments to get some referrals. Or consider creating a blog or Youtube channel.
The more relevant they are, the better your earnings will be.
You can find your referral link on your my account page.
Clixsense research
This one is Clixsense's own research panel which comes up with a clixsense account.
Clixresearch is taking members only from US, Canada, and Uk.
Since it works as a separate site, the payment is also a separate one, You need to make $10 for a Cashout or Gift card.
You can also participate in their sweepstakes to win prizes.
Clixaddon and Daily checklist bonus
Clixaddon is a browser extension that gives you notification about jobs available.
You can also check basic information without visiting the site.
Earlier, I mentioned that you will receive 16% bonus but to receive you need to do the following things,
Complete either 2 offers or 10 tasks.
Add Clixaddon extension to your browser.
Visit forum at least once a day.
Right now, Clixsense is not offering any mobile app but you can work on your mobile.
So how much money you can make
Technically, earning potential on clixsense is unlimited. But I  want to give you the exact number or at least something close to that.
Let's say you are from a top-tier country you receive lots of offers and find the offer section amazing, on the other side people from non-top-tier countries where tasks are the better way.
On average, you earn 4 cents per task, Tasks are not going limit your potential based on what country you are from.
Let's see how much a top tasker can make, In this one, the tasker completed about 7596 tasks in a month so he must have made 300 dollars plus 50 dollars for staying on the top and 80 dollars in bonus.
So we can expect a top worker to make $450 without referrals.

Balance reversal
Clixsense reverses balance in some rare cases, For example, this one happened to one of my referrals.
He received a quick survey and clicked on it within few moments without even entering into the survey it brought him to the page which showed him that he successfully completed the survey.
After that, he withdrew his balance about two times, after few months they reversed the payment and mentioned him the exact reason.
If something like that happened to your referral, the commission received will also be reversed.

Other than this, Giving wrong information on surveys may also end up in rejection of your work.
I need help, What should I do?
Lets picture this situation, You complete a survey or task and see no gain in your account balance.
And it is obvious that it happened because of a technical problem.
In this kind of situation, you should contact their support team.

Just submit a ticket and they will get back to you within few hours with a solution.
You can also visit their forum to discuss specific topics.
So far we have covered everything about clixsense and hope you are also ready to earn on Clixsense.
Now it is your turn to share how you are doing with clixsense.
If you find this article helpful, do share with your friends.
Or if you have any question, feel free to drop a comment.